Grandmaster of Grammar
Posts: 1001
Joined: Tue Jan 15, 2008 8:01 am
Location: Not Sweden
Contact:
Happy birthday sir
.
Read my prose please
.
An tírghrá Éireannach
---
Revenent of the Replies
Posts: 311
Joined: Tue Jan 15, 2008 9:14 am
Contact:
Megaman cake wins it easily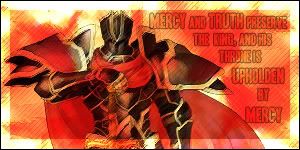 ---
CAPS LOCK INCARNATE
Posts: 50
Joined: Wed Jan 16, 2008 1:31 am
Location: The Hall of the Tome
Contact:
Many many thanks to everyone who wished me a happy birthday, and especially for the poems and cake. I wanted to reply earlier, but I wound up spending the last week in the frozen north of Alaska, learning how to be manly!.... Well, ok maybe that's a bit of a stretch, but I'm sure I will wind up recounting many tales in the coming days. Anyway, thank you all again my friends and with any luck i'll be around to celebrate many more years with you all.
I weep, I weep at my own idiocy, my favoritism, for the end of an era, the fall of a giant, I weep for the lost souls who rested upon it's shoulders, who found themselves beneath it's girth, for those who stand over the fallen behemoth refusing to let it die, I weep, for all who found safety and comfort in it's shadow and for all who depended on it's watchful gaze, in this world full of malice, in this world full of suffering, chaos and hatred... I weep
---
Assessor of the Black Tontine
Posts: 1175
Joined: Tue Jan 15, 2008 12:14 am
Location: Lingering at Life
DS!
Another year trips 'round again.
Many happy returns.
Cruor Vult

Hope, it is the quintessential human delusion,
simultaneously the source of our greatest strength, and our greatest weakness.

Soon we shall be One...joined in the Word.
---