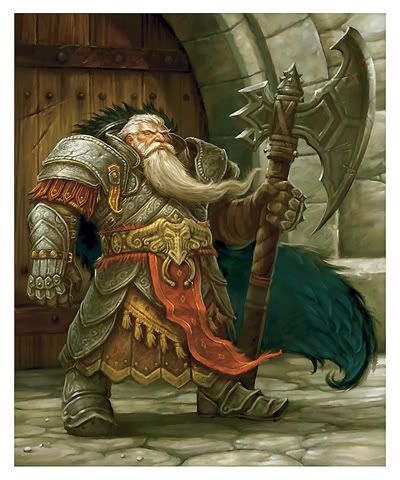 A single Dwarf arose from the depths of the dungeon, hefting an axe covered in the dry blood of what appeared to be thousands of different creatures. He was grizzled, with a demeanor akin to a warrior having slain demons and shadows darker than the very worst mortal nightmares could conjure. Rogues, veterans, and even the commonfolk of the town avoided him; his aura was so powerful that they feared for their life merely by being in his presence. He opened the tavern and clattered inside, his thick plate armor chattering from scars and dents no doubt caused by the denizens of the depths. He sat at the bar, turned around, and addressed those inside the tavern as though they were his lost cadre of soldiers.
"Ye' think that this is all fun and games, that there be loot ye' can just take and git away with down there. Lemme be the first to tell you that ye'r dead wrong."
He took a pause and sipped from the pint that the tavernkeeper behind him had supplied him. The Dwarf laid down a thick, golden coin for him and the keeper's eyes grew wide. Coinage of that nature hadn't been seen in centuries, historians might try to tell you.
"I be Engen Blakk, the last survivor of the party in the service of my Great Patron Saint."
He took a short moment of silence, as though in recognition of someone he'd lost.
"If ye' think ye'r ready for the true dangers of the depths, reach level 10 and come see me. I'll give ye' something to hunt in them there pits."
He set his back to the people in the tavern and went back to taking great enjoyment in his pint.